Geometric Space, my installation for the International Festival of Sound Art - Sonic City 2013.
Geometric Space, mon installation pour le Festival international des arts sonores - City Sonic 2013.
————-
Geometric space, is a modular structure that adapts to the place, in a minimum space modules 4. 
Triangularity modules and slow arm, playing with the idea of ​​hypnotism. 
The slowness is important for access to contemplation, the sound aspect is worked to see different time flow and gradually appear. 
The composition is played by a colorful elastic geometric army, in this way a space and psychedelic atmosphere emerges from module to module the viewer can identify loops, which become random when the arms intersect.
Geometric Space, est une structure modulaire qui s'adapte au lieu, au minimum 4 modules dans un espace.
La triangularité des modules et la lenteur des bras, jouent avec cette idée d'hypnotisme.
La lenteur est importante pour accéder à la contemplation, l'aspect sonore y est travaillé de manière à voir différents temps s'écouler et apparaître progressivement.
La composition est jouée par une armée géométrique d'élastiques colorés, de cette manière une ambiance spatial et psychédélique se dégage, de module en module le spectateur peut repérer des boucles, qui deviennent aléatoire, lorsque les bras se croisent.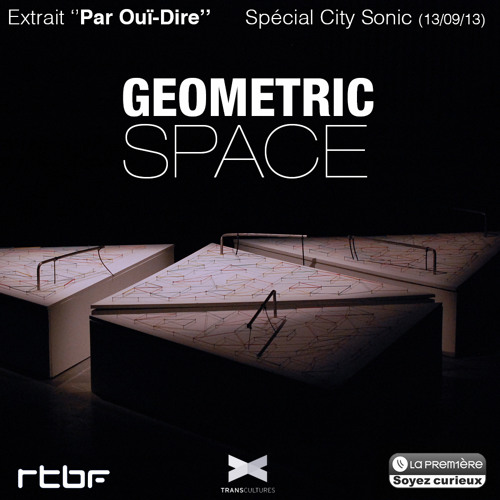 Extrait radiophonique (fr)  : "Par Ouï-Dire" sur Prem1ére (rtbf)